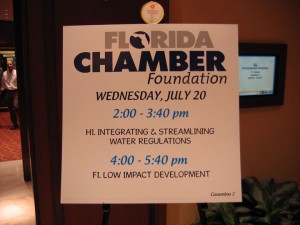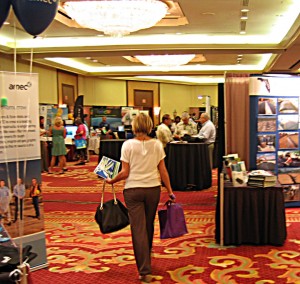 NAPLES, FL – July 20, 2011 – Aquatic Plants of Florida, Inc. announced today it was attending the Florida Chamber Foundation's 25th annual summer school environmental permitting conference in Marco Island, Florida as an exhibitor. The event was produced in cooperation with the Florida Department of Environmental Protection and Florida's water management districts.
Aquatic Plants of Florida constructed a green exhibit (#23), located in the Marriott Marco Island Resort's Islands Ballroom, highligting dozens of native plant species used to restore native ecosystems. Conference attendees were offered hundreds of complementary native plants at the event along with native plant information.
Welcoming remarks and the keynote address was provided by David Hart, executive vice president, Florida Chamber of Commerce, and keynote speaker, Herschel Vinyard, Secretary, Florida Department of Environmental Protection. Other speakers during the three day event, included Jeff Littlejohn, P.E., Deputy Secretary for Regulatory Programs, and Melissa L. Meeker, Executive Director, South Florida Water Management District.
Attendees of series of courses and formal discussion sessions included: attorneys, architects, landscape architects, surveyors & mappers, environmental managers, elected officials, property appraisers, local government, environmental consultants, local chambers, water management districts, builders & contractors, business, industry, engineers, planners and more.
Online registration and continuing education information is available at www.floridaenet.com.